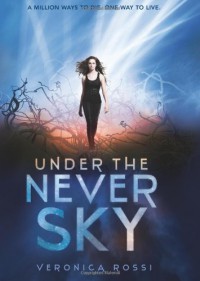 More of my reviews at The Cozy Reading Corner
Before I begin my actual review, I have to tell you a funny little story concerning this book. I downloaded it from Netgalley the night before New Years and told myself that I wouldn't finish it until 2012. Because 1) I had just finished writing a meme post in which I wrote about the first book I read in 2011 and the last book I read in 2011, so I couldn't read anymore books for 2011 and 2) so that it would count toward my Debut Author Challenge by The Story Siren. But what happened? I opened it up to just read a few chapters....... and read the whole darn thing. I couldn't put it down. As a result, it won't count toward my DAC and my meme post is inaccurate. Oh well, it was worth it. :D Now, on to my actual review:
There was so much hype being brought up about this book that I began to doubt that it would actually be any good. I shouldn't have worried. Veronica Rossi totally had this under control and has written a great novel that has found its way onto my favorites shelf. I absolutely loved everything about this book! The cover, the story, the characters, and the setting. I am absolutely dying to get my hands on the sequel because the ending had me flipping the page saying, "No! There has to be more!" I can't even begin to describe the book or the characters in a way that will do them justice. Just know this- I have never, ever read a book like this before; it is completely unique and one-of-a-kind! You won't regret picking this book up and meeting all of the awesome characters (Aria, Perry, Roar, Talon) and visiting this new dystopian world! <3<br/>
An ARC was provided by the publisher via Netgalley.